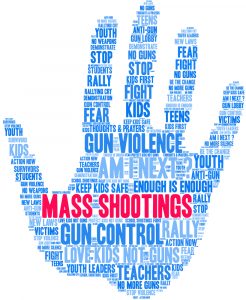 By Steve Neavling
Mass shootings in the U.S. declined last year, but the number of victims injured in those attacks rose, according to the FBI. 
The FBI logged 50 mass shootings in 2022, a decline from 61 in 2021.
But the casualties rose from 313, including 100 deaths, in 2021, compared with 243 and 103 deaths in 2021.
The FBI defines a mass shooting as one or more people engaging in killing or attempting to kill people in a popular area. The definition excludes shootings prompted by gang violence, domestic disputes, drug violence, or hostage situations.
The Gun Violence Archive, a nonprofit that tracks mass shootings, defines a mass shooting as an attack in which four or more people were shot. By that definition, there were 646 mass shootings last year and 690 the year before. 
The number of mass shootings, as defined by the FBI, has risen sharply since 2018, where the bureau tallied 30, which included 139 casualties and 86 deaths.