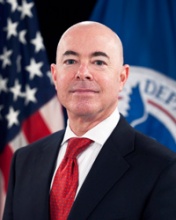 By Steve Neavling
ticklethewire.com
Alejandro Mayorkas is stepping down as deputy secretary of Homeland Security after accepting a job in the private sector.
Mayorkas served as the No. 2 at Home Security for the past there years and will step down on Oct. 28, Federal News Radio reports. 
He will join Wilmer Cutler Pickering Hale and Dorr LLP, the Wall Street Journal reports. 
"I began my government service as a federal prosecutor, a position I held for nearly twelve years, and I have been a member of our department for nearly seven years," Mayorkas said in a staff email. "I have cherished every moment of public service. Thank you for making it so."
In a press release, Secretary Jeh Johnson said Mayorkas was an effective leader.
"Over the last 34 months, Ali has spearheaded much of our Unity of Effort campaign and employee engagement initiatives, and has taken a leading role on issues ranging from immigration to cybersecurity," said Johnson in the statement. "His legacy as deputy secretary will be the number of things we did to improve how this department functions, and the significant increase in employee satisfaction we saw this year as a result. We are all grateful for Ali's many contributions."
Other Stories of Interest