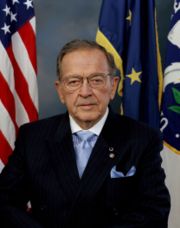 By Allan Lengel
ticklethewire.com
The conclusion in an independent report released Thursday on the bungled prosecution of the late Sen. Ted Steven is anything but surprising: The Prosecution screwed up big time.
Talking Points Memo's Ryan J. Reilly reports that the voluminous report concludes that the Justice Department prosecutors engaged in "systematic concealment" of information that would have helped the defense.
Stevens was convicted of public corruption, but the Justice Department later admitted that the prosecution withheld info from the defense and a judge vacated the conviction. The indictment and conviction probably cost Stevens a re-election.
TPM writes that the report does not recommend prosecuting any Justice Dept. lawyers.
"It should go without saying that neither Judge Sullivan, nor any District Judge, should have to order the Government to comply with its constitutional obligations, let alone that he should feel compelled to craft such an order with a view toward a criminal contempt prosecution, anticipating its willful violation," the report states, according to TPM.