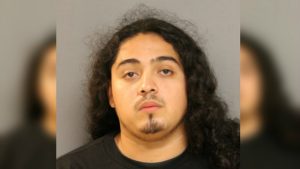 By Steve Neavling
ticklethewire.com
A trial is expected to begin today in the murder case of a reputed gang member accused of shooting an ATF agent in Chicago last year.
Prosecutors say Ernesto Godinez opened fire on the agent from an alley in the early morning hours of May, 4 2018, shooting him in the face, Fox 32 reports. Surveillance video spotted Godinez in the area shortly before the shooting.
The agent survived.
Prosecutors said Godinez, who was arrested three days later, believed he was shooting a rival gang member.
Godinez's attorney acknowledges his client was in the area the morning of the shooting, but insists Godinez was not involved in the shooting.
A 12-person jury was selected Monday, and opening arguments are to begin Tuesday.
If convicted, Godinez could be sentenced up to 20 years in prison.