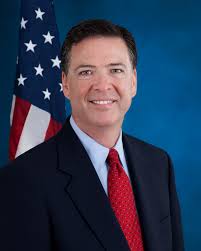 By Steve Neavling
ticklethewire.com
FBI Director James Comey has indicated he wants to serve the rest of his 10-year term, but President-elect Donald Trump may have other ideas.
NPR reports that advisers to Trump are mulling whether to retain Comey, who played a central role in the investigation of Hillary Clinton.
Although Comey has nearly seven years left in his term, Trump and his advisers may pressure the director to leave.
Before the Clinton investigation, Comey earned a reputation as non-partisan.
"If Trump chooses [to] replace Comey with a sycophantic yes-man, or if he permits Comey to resign over law or principle, that will be a clear bellwether to both the national security and civil libertarian communities that things are going terribly wrong," national security scholars Susan Hennessey and Benjamin Wittes wrote on their Lawfare blog.