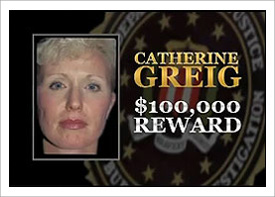 By Katherine Q. Seelye
The New York Times
From an early age, Catherine Elizabeth Greig knew the life of a moll. By about 20, she had married a Boston firefighter named Bobby McGonagle, joining a family with close ties to a gang that was part of the Irish mafia in their South Boston neighborhood. Violence and shootouts were not uncommon as gangs warred for control of the rackets.
Mr. McGonagle and Ms. Greig were divorced within a few years, and she became involved with Mr. Bulger, who is more than 20 years her senior.
It was a sign, perhaps, that if she could overlook his possible involvement in the deaths of her two brothers-in-law, she could overlook a lot more.
To read full story click here.